Making Your Home Our Promise…What is it, exactly, that makes buying or selling your home so unique? Is it the location? Is it the actual size of the home? Is it the interior layout and design?

Or how about whether it has a big backyard, or a great view, or maybe its proximity to your kids' school or local parks?

The truth of the matter is that there is no magic in the buying or selling of any home. It simply comes down to three universal factors:
Timing

Peoples' Wants and Needs and,
Chemistry (the actual feeling that one gets when entering the home itself, or driving through the neighborhood)
Going beyond these three factors is merely a formality, but this formality is exactly what we do, and do well. We take the headache out of buying or selling your home. Period. We nurture you in making the three factors above your work and the paperwork and "beyond" our

When you are ready to select your professional partner in this process, we are ready to get started.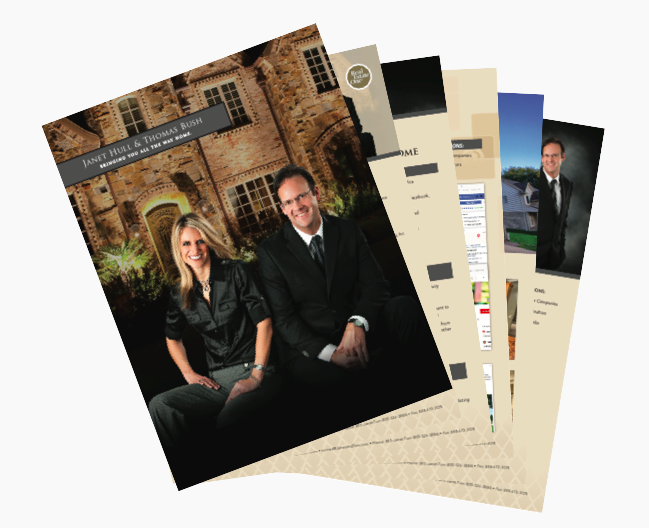 Testimonials
" I had a very great experience with Tom Bush and Janet Hull. Janet was always there to assist if need be. Tom and Janet handled all my short sale details and stayed with me during frustrating periods. They negotiated with bank, attorneys, etc., and followed through with issues we had discussed.I trust Tom and Janet and would work with them again, no question! "
- James Dake / Home Seller
" Janet Hull and Tom Bush were responsive and readily available with great advice from listing to the sale of our home. We mainly worked with Tom in looking for a home and he was always there to work with us with valuable information until we found the perfect home right on the water. We highly recommend the both of them as professional realtors who get the job done. Jan and Debbie Pravlochak "
- Home seller Shelby/Buyer Harrison Twp
" Tom and Janet was a HUGE help in our extensive hunt for a home. Our search was rigorous and Tom was always available to meet our needs and timing. He kept us apprised and led us through our first-time home buying experience every step of the way from our first listing to closing. I highly recommend him and his professional real estate services. I will definitely be reaching out to Tom and Janet in the future when the time comes to sell our home. "
- Buyer and Seller , Warren Mi
" Real estate agents are salespeople, a profession often thought of as lackluster. As a professional career salesperson of more than 39 years, I understand this sometimes-negative connotation, and I can spot it a mile away. So often salespeople's only objective is to hit their personal quota; selling you what they want to sell, not what you want, need, or are even asking for. The defining benchmark for any salesperson is simple, and it's not hard to figure out: is your salesperson doing the talking and you the listening, or the other way around. So before you hire your next realtor, do the simple litmus test: sit down and interview them before you sign and pay attention to who is doing all the talking… it better be you. True professionals like Tom & Janet listen, and they do so attentively. They make it their mission to understand what you want, and then do their best to fulfill your request rather than fill your needs with something they want, or need to sell. Janet Hull and Thomas Bush are the best, and they rock in my professional opinion. Thank you, both for exceeding our expectations as a professional, responsive, and caring realtor. You both went beyond the call of duty.. a virtue hard to find these days! "
- Home Buyer and Seller, and Friend :)
" Dear Janet & Tom, Congratulations on another outstanding year! Few Realtors across the country have attained your level of success over this past year. You once again are one of the top Realtors in the nation, ranking in the top 1% among the over 1 million Realtors across the country. Counseling our clients requires a delicate balance of marketing and relationship skill, which you have mastered at an outstanding level. Every year you adjust your business model to the current market, ensuring your clients receive the best service possible opportunity for success. Stu and I appreciate all you do every day to master your business and client service. Sincerely, Dan Elsea, President-Brokerage Services, The Real Estate One Family of Companies "
- Dan Elsea
" Tom and Janet: Thank you to both of you for the great job on the sale of our home in Macomb. You are a fantastic team! Tom as a professional realtor you were always there to answer the call and many times the only voice of encouragement with unwavering patience. Your marketing strategies and use of the internet technologies to sell our home was top notch. You also jumped through hoops to help us find our new home; and you stuck by us all the way. Alas, we did find the perfect home for us. We highly recommend your team to our friends and family or to co-workers who are looking to sell or purchase a home. Thank you for all your efforts and especially for having our best interests at heart from the moment you met us until the journey was complete. Pam and Ron B** Macomb, MI "
- Pam and Ron B
" Having been in the Title and Real Estate Industry for many years, my options for Real Estate Agents are endless. When it came to looking for a home, I knew exactly where to go. Janet Hull and Tom Bush are the best there is. They act quickly and professionally and get the job done with ease. While continuing to be Top Producers, they make you feel as if you are their only client with their dedication and responsiveness. As a result of these qualities, they recently sold our house in a matter of days. I cannot thank them enough for all of their assistance and expertise over the years and for helping my family and I find our dream home. "
- Melissa H.
" There're many memorable moments with Janet&Tom. Their professionalism, knowledge, thorough analysis, communication and negotiation skills are so impressive. If I need a realtor in the future Janet&Tom will be my top 1 choice. I would strongly recommend Janet&Tom to my friends when they need service in real estate. "
- Happy Seller in Rochester Hills :)
" Janet and Tom are great! We have utilized their services on a few houses now. There is no other team my wife and I would consider when it comes to real estate. They are very personable and always able to be reached. They are very knowledgeable and good at what they do. Nothing but good experiences with them. Highly recommend to anyone! Thanks Janet and Thomas for everything! Brandon and Nicole "
- Seller in Chesterfield Twp
" Seller in Rochester Hills, Jenny -- Janet and Thomas were great. We live out of state and they made this process so easy. They went over and above to always help us. We would recommend them to everyone we know. Thanks Jenny "
- Jenny
Previous
Next